Building Connections | May is Better Hearing and Speech Month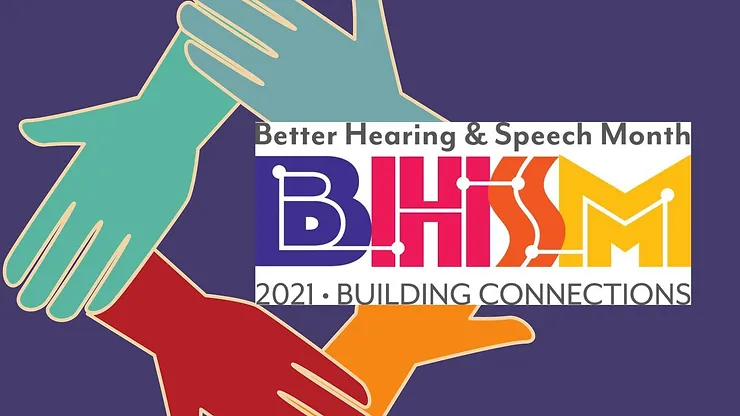 The American Speech-Language-Hearing Association (ASHA) celebrates Better Hearing and Speech Month (BHSM) in May of each year. The goal of BHSM is to spread awareness of issues related to hearing loss so that treatment rates can catch up to what the science says they should be. Hearing loss is undertreated in America—only about 1 out of 5 people who could benefit from hearing aids is wearing them. With BHSM, ASHA seeks to make hearing loss a bigger priority both for policymakers and for individuals who could benefit from hearing aids.
The theme for this year's BHSM is "Building Connections." As we begin to emerge from the precautionary isolation imposed by the COVID-19 pandemic, the idea of building connections will surely be on our minds as we start to venture out into the world again and recreate our social lives.
ASHA has divided the month into four weekly sub-themes, including:
Week 1: Untreated Hearing Loss in Adults

Week 2: Early Intervention & COVID-19

Week 3: The Role of Health Care SLPs (speech-language pathologists) in COVID-19 Recovery

Week 4: Summer Skill Building, Hearing Protection for School-Aged Children
Head over to ASHA's website for up-to-the-minute information on BHSM and the state of hearing health today.
New Numbers On Untreated Hearing Loss
One thing audiologists have noted for some time is the low rate at which people seek treatment for their hearing loss. While 48 million Americans are living with hearing loss, only 1 in 5 has sought treatment for it. On average, people wait about 7 years from the time they notice hearing loss to the time they choose to do something about it.
Research over the past few decades has shown that even mild hearing loss can affect quality of life to such a degree that hearing aids should be worn. Wearing hearing aids is the best way to prevent what we sometimes call the "cascade of negative outcomes" that hearing loss can set off, yet too many adults are living with untreated hearing loss.
ASHA has just released the results of a new poll that they are calling "extremely concerning." 2,500 American adults responded to the poll and the sample of individuals is considered nationally representative. Here are some of the key findings:
80% of respondents said they considered it important to their quality of life to maintain their hearing health.

Yet only 20% have had a hearing test in the past 5 years, compared with 61% who have had a vision test over the same time period.

51% reported having hearing problems, but only 11% have sought treatment.

78% of respondents with hearing issues have had problems for over one year. 35% of those have had problems for five years or more.

42% understand that mild hearing loss can have impacts on a person's life and daily functioning.

Yet 56% of respondents with untreated hearing issues say they would not treat their hearing loss unless it became "severe."
Hearing Loss Is Not Like Near- or Far-Sightedness
The disconnect we see here between the value that we claim to place on our hearing health and the rate at which we seek treatment for hearing issues is extreme. Perhaps some of the problem lies in the fact that hearing loss works so differently from near- and far-sightedness.
When we have near-sightedness, we can see the landscape in front of us, and we can see how blurry it is. With hearing loss, however, we usually don't know what we're missing. Sounds don't appear "blurry" to us; we just don't hear them. It may not be until we have moderate or severe hearing loss that the difficulties hearing loss can pose in conversation become truly unavoidable to us.
Prior to that point, however, we are likely to have issues with earlier social fatigue, memory problems, disorientation, and the beginnings of brain atrophy as the auditory cortex receives less information from the ears. Since hearing loss tends to progress slowly, and the effects take time to develop, many people may not realize how much more they could be enjoying life by getting a set of hearing aids.
Hearing Aids Are Better Than Ever
Hearing aids today are powerful instruments, yet simpler than ever to use. They integrate seamlessly with Bluetooth and other technologies to make streaming phone calls, video conferences and entertainment media a breeze, with direct connection to most Bluetooth-enabled devices. Smart apps let you make customizations to your fitment if you wish, while you can also contact us directly through the app to make fitment adjustments without even visiting the office.
If you or a loved one is having hearing issues, make an appointment for a hearing test today and find out whether hearing aids are right for you. Celebrate Better Hearing and Speech Month by bettering your hearing health!
---