Tips for a Successful Virtual Family Reunion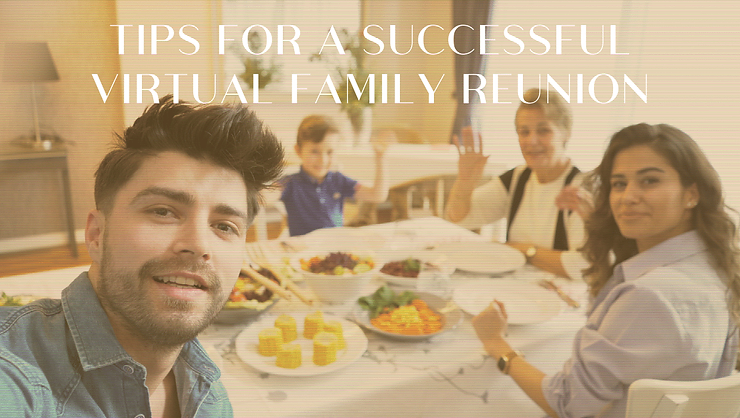 Virtual communication has been a major way we have stayed connected with our loved ones this year. With the upcoming holidays, more people will be gathering with family and friends virtually. Online reunions can be a great way to spend quality time when in person get-togethers are not a feasible option. By making a few adjustments and planning in advance, you can transition festivities online successfully! A few helpful tips to have a fun and engaging virtual family reunion include:
1. Set Expectations
To avoid potential schedule conflicts and confusion, set clear expectations that are communicated in advance. This should cover the event details: time, platform, who will be there etc. Additionally, it can include what people should prepare and have handy during the meeting. Establishing and sharing this information allows people to be on the same page and comfortable about the upcoming gathering!
2. Organize Agenda
Another useful way to communicate expectations is to organize an agenda. This requires some preplanning, research, and asking others for suggestions. What are the activities that you want to host? Are there family traditions that can be translated to an online space? Do not feel limited because you are meeting online! There are numerous board games and interactive activities that you can access and play online. Once you have identified this, you can create an agenda that is shared with everyone beforehand.
3. Run Practice Meeting
A critical part of virtual gatherings is to establish the platform you will be using. With several available options, it is important that everyone knows the forum and downloads the platform in advance. A helpful way to ensure this happens is to organize a practice meeting. Many platforms allow you to run a test meeting which allows people to know that they have downloaded everything properly. It also gives people the opportunity to practice using the technology and explore the settings. This is particularly helpful for family members who are less tech-savvy!
4. Plan for Communication Needs
Virtual platforms are designed to allow people to easily connect with others. Though this has been incredibly helpful this year, virtual communication can present challenges for some people. People who navigate hearing loss, visual impairments, or other conditions have different communication needs that need to be accommodated. There are useful ways you can create a virtual space that is more accessible for everyone including:
Use Video: it is important that everyone is clearly visible, especially the person speaking. Being able to pick up on nonverbal communication (facial expressions, body language) and read mouths help people, particularly with hearing loss, follow conversations. This means there should be good lighting, people should avoid covering their mouths and faces etc.

Mute Button: background noise can make it difficult to hear and keep track of conversation. A helpful way to reduce noise is to use the mute button when you are not speaking. This is especially helpful when running a meeting with multiple people which can create a lot of noise.

Moderator: another way to help people follow what is going on is to have a moderator or facilitator. This can prevent people talking at the same time and redirects attention to one person if there is any confusion. Having a moderator also helps people focus their attention and hearing!
You should share these tips to meet communication needs with all participants by including it on the agenda!
5. Get Creative
Just because you are getting together online does not mean you have to settle. You can have dynamic virtual meetings by getting creative! There are several ways to organize festive gatherings that are engaging. A few ways include:
Share Menu: to feel more connected with family and friends, you can share a menu in advance so that people can prepare the same foods. If you have certain family traditions with food, this is a great way to incorporate that.

Décor: some virtual platforms provide digital backgrounds that you can apply to add some fun! Explore different backgrounds, or change yours up a bit to make the environment more festive.

Theme: another way to create a festive meeting is to have a theme. Ugly sweater, pajama, beachy are just a few ideas!
Hearing Aid Technology
For current hearing aid users, ask us about Bluetooth technology and how you can connect wirelessly to your devices for video chats and phone calls.
One important way to stay connected is to ensure you are hearing your best! If you have noticed changes in your hearing, contact us today to schedule an appointment for a hearing test.
---