Tips for College Students with Hearing Loss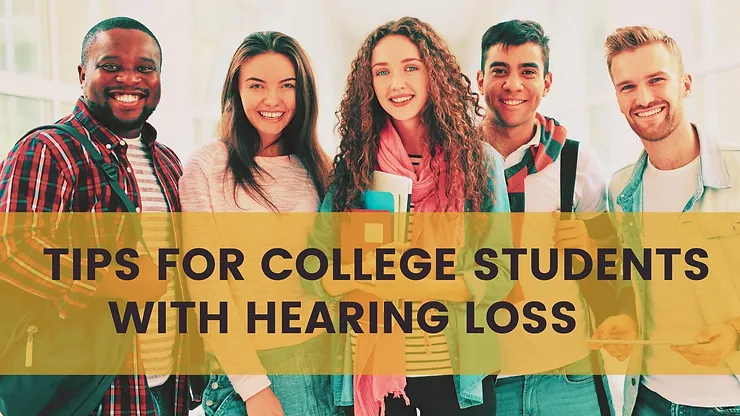 Although aging populations have the highest rates of hearing loss, they are not alone. In fact, younger people are demonstrating higher rates of hearing loss than ever before. Many experts point to increased noise exposure at younger ages, and that noise is often voluntary. Listening to headphones and earbuds at a loud volume can lead to hearing loss in a remarkably short time, and limited knowledge of the long-term effects of headphones leads us to believe that they may be doing even more harm as the years go by. Whether due to noise exposure or another source, more college students than ever are attending classes with hearing loss.
In some cases, the classroom is equipped with assistive technology and amplification to make it easy to understand and keep up with everything going on. However, other classrooms are less tech savvy or continue to use outdated systems to amplify the voice of the professor or other speakers. Let's take a moment to think about some well-known tips and resources to assist those with hearing loss in college.
Despite the social aspects of miscommunication that transport to other domains of life, college is a uniquely auditory experience in many classroom settings. Knowing what accommodations and services are available to you is a great way to embark on a path toward successful completion of college with hearing loss.
University Resources
If you are a college student with hearing loss, the first step you can take is to visit your disability accommodations specialist. You can register for the assistive technology that makes your learning environment the best it can be. This office is an invaluable resource, so you can inquire about the services that are available to hearing impaired and deaf students in the classroom. Depending on your degree of hearing loss, you may need more or less assistance, so be sure to communicate your needs clearly to the staff in your disability accommodations specialist. After you work with this office, the next step is to communicate with each of your professors. Once you know the assistive options available to you, your professors are the next link in the chain toward better hearing and understanding in the classroom.
Classroom Assistance
In the classroom, a few key pieces of assistance can make your learning environment the best it can be. Priority seating in the classroom goes a long way, and you can make sure that you have a seat at the front of the class, nearest the speaker for the best audio volume and visibility of the speaker. Note taking services are available to those with hearing impairment, and this service makes it possible to keep your eyes trained on the face of the speaker while another person assists with note taking. The combination of audio and visual information completes the communication puzzle, so be sure that your line of sight remains clear in class. If your needs are suited to these devices, FM systems can send the audio from the speaker directly to your hearing aids or a headset equipped with the voice of the speaker. CART (which stands for Communication Access Real-Time Translation) provides voice-to-text assistance for your lectures, and you can receive captioning on any video content that supplements the live speaker, as well.
Beyond the Classroom
Outside class time you will want to get the best assistance, as well. Communicating your needs to other students will make group work and study collaborations possible, so don't hesitate to describe your needs to any classmates who can provide more assistance. If your class has an online component, make sure that captioning is provided by your professor or in coordination with the disability accommodations specialist. When you take proactive steps to enhance the listening environment in the classroom and beyond, your education will benefit from these enhancements.
However, those who have untreated hearing loss will get the most benefit from treatment through expert hearing health providers, like our team! Whether this means acquiring hearing aids or other assistive technology, you can use these resources to take communication into your own hands.
Hearing aids have come a long way in terms of media sync and streaming capability, so be sure to ask our team which aids will best help you in a university environment.
---